Mondo – Giving Old Films New Life –
AIGA Q & A with Justin Ishmael and Rob Jones of Mondo
Article by – Bryan Henderson
Pictures by – Rainbolt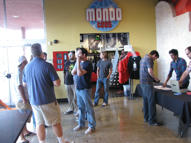 Mondo South Lamar was in a stark change of state from how it was just a few weeks before during Fantastic Fest; only about a dozen people loitered in the lobby as opposed to several hundred. For the intimate event, Will Hornaday, the event coordinator, set up a small table and handed out red tickets for $10 cash.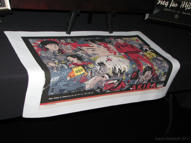 Even though the event sold out, the theater was half empty, many of those who reserved a ticket did not bother to show up.
Before the showing, we were able to look at unreleased items in the front of the theater. One item included a knock-off cloth Akira poster.
Introduction of the Mondo Staff
After a small introduction from Will Hornaday, Rob Jones and Justin Ishmael came onto the stage. Rob was satirical and made sly comments while Justin was the opposite, friendly and talkative. They started by showing pictures of the Mondo crew. An old photo of Mondo's manager Mo Shafeek popped up from when he was an Oscar Grouchketeer. Mo was one of the Grouchketeers for 5 years before he got too sick and fell off the stage one day (Hensen's company fired him the next day).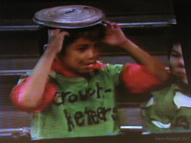 Mo Shafeek as one of the Grouchketeers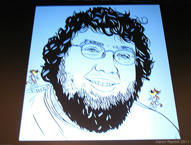 Mitch Putnam
The History of Mondo
Rob Jones was given $1100 for making posters for several shows at the Drafthouse. He was trying to convince Tim League that the posters were worth it, but $1100 just didn't cut it for prints. He had Jay Ryan try to do print runs for $150 per print. Eventually, Jay Ryan led Rob Jones to Tim Doyle (manager of Mondotees at the time but now is the head of Nakatomi Inc). After that, Rob Jones hooked up with Mitch and then Justin. As an aside, they mentioned that Justin is tenacious like the cable guy and keeps asking and asking until he gets what he wants. The three together became the perfect trio.
Martin Ansin
The Mondo crew originally wanted artists to fulfill roles as artists of certain genres of movies, but that did not end up happening. Ansin was supposed to be the silent movie guy by starting with Metropolis. The crazy thing about Ansin is that his sketched pieces are about final and he does all his work on the computer.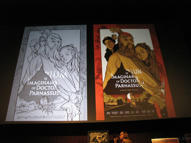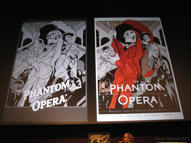 Ansin's Phantom of the Opera piece looked too comic book-like for Mondo's taste, so the final version looks more streamlined with straighter text and a straighter cane.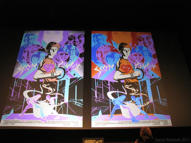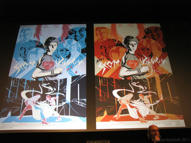 The Scott Pilgrim print went through several renditions due to studio trouble (they kept wanting crazy/neon colors). Eventually Mondo, through emailing Edgar Wright and circumventing the studio, was able to get a blue and red version out: the red version the Nega Scott Pilgrim and the blue the normal Scott Pilgrim.
The day of the screening, Justin and Rob discovered that the printers screwed up the printing of Scott Pilgrim! The black ink for the Nega Scott Pilgrim variant turned up on the regular version of Scott Pilgrim. They told the audience that they would get the exclusive Nega version of the print. Behind the scenes, they secretly had the regular version reprinted.
Drew Struzan
Justin began talking to Drew Struzan after he saw a $7500 small painting he did for The Thing. Justin kept asking Drew if he wanted to put it on layaway, and they began to talk about other things, too. Drew began telling Justin that he had always wanted to do posters for movies he was not alive to see. He even did a Frankenstein print for fun. He had always wanted to do posters for fun because studios were all about the money.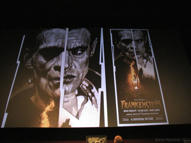 Then the perfect storm occured: An already finished Struzan Frankenstein painting and Mondo's Universal Monsters license were already in place. Just in case, Justin showed Struzan the two extremes that Mondo could do for prints – Horkey/Vania's Dracula and Stout's Empire Strikes Back. Justin said that Struzan was like The Dude, very laid back and easy-going, and was cool with having Frankenstein printed. Justin told Drew that it was no problem printing it, but they lied; Tong said it would be at least 35 colors and way hard. Ken Taylor ended up creating the text style, and D&L Screen printing reduced the colors to 21 from 35.
Struzan will be doing a print for The Dark Tower (the one seen at the beginning of The Mist) and is now one of the Mondo go-to artists.
Phantom City Creative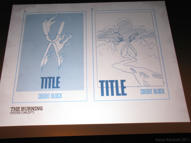 A few conceptual versions of The Burning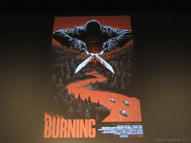 Final version
Phantom City discovered that they like doing horror movie prints after doing Buckaroo Banzai. Horror is their strong suit, especially after The Burning and the piece they created for Sleepaway Camp (unreleased print). Here is the concept and recently released version that Justin is in love with, which was very apparent when he reacted as the slide came up.
Olly Moss
Moss is sometimes able to come up with designs extremely quickly. The Let Me In print took a grand total of 15 minutes to complete from when Justin sent him an IM about it.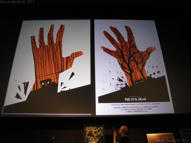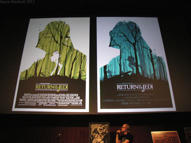 LEFT: A quick sketch sent to Justin by Olly Moss, giving him an idea of what he would like the Evil Dead print to look like. And of course the final version.
RIGHT: Another quick sketch for the Star Wars series next to the final version by Olly Moss.
Aaron Horkey
Horkey is more about traditional design and does not use computers whereas the rest of the Mondo artists pretty much exclusively use computers.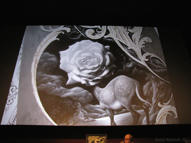 Horkey's first screen print for Mondo was Dead Man, which was so detailed and elaborate with water coloring (he also sketches the same thing twice just to make sure it looks right). The final product was a giclee instead of a screen print. That is, it was printed using a printer instead of pulled using separate screens.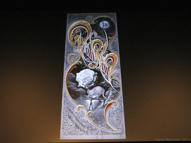 Dead Man also was so elaborate of a print that it was one of the first high-demand Mondo prints that caused an instant site crash when it was released onto Mondo's web site. Justin has claimed they have since corrected the problem. Justin and Rob Jones also complained about Horkey's "manager" at the time. For instance, the night of the Jurassic Park movie screening, the guy wanted $300 for them just to have a look at the print.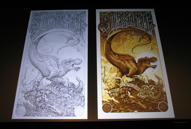 The Jurassic Park print went through a few changes as well between the studio and Mondo. The studio wanted the original JP logo, the blue eye on the T-Rex, a restricted logo, and filmratings.com items added to the poster. Only one of those items showed up on the print – I'll let you figure it out. The JP print could also not use any likenesses on it which is why it only has dinosaurs on it.
Old and New

Vigilante pre-approval

Approved Vigilante print
Justin and Rob showed off many comparisons between old and new prints. Justin said he enjoyed the Vigilante print, but Rob countered with how crappy the flowery wall paper was and that that picture was shown just before a kid's brains got blown out. Justin still thinks it's a sweet print.
Alan Hynes

The Stuart Gordon and Jeffrey Combs' Edgar Allan Poe stage play Nevermore final sketch that Alan Hynes sent to Jones was really lame with, or as Rob put it, "Garfield in the center of a keyhole with feathers." The initial sketch that Alan Hynes drew ended up being the final version with Poe and the puppet strings.
Silent Giants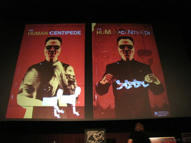 The Human Centipede piece was, as Rob put it, "the best example" of how they sometimes get prints that need to be changed. He suggested that the artist put up "paper dolls," and the poster ended up working out.
Star Trek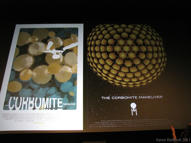 Mondo has a two-year contract for Star Trek, so expect more from them. Particularly, they want to do Next Generation items in the future since they have been doing Legacy prints before. They can put all likenesses on the prints except for Shatner and Nimoy, who have to approve each one personally. The initial piece for The Corbomite Maneuver didn't look right to Rob and Justin, but now that they think about it, it does look kind of psychadelic. They ended up going with the one on the right which is coming out eventually.
Mike Saputo
Saputo came up with a sketch he showed to Mondo, but Rob mentioned that the palms on the monster and the ass on the guy (the girl's is spot on) don't look right. Saputo later came out with The Managerie. The only change made was a darker background.
Kevin Tong
Tong wanted to do a Star Trek Five print. It ended up looking like something from Dilbert, so it was canned.
Tyler Stout
Tyler Stout does not do sketches initially for his work – he is a touch-and-go kind of guy, so when Lucasfilm needed him to do the sketch work, he came up with kid-like items just to appease Lucasfilm.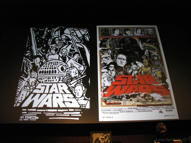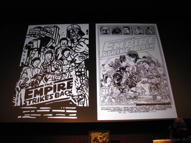 The initial sketch was quickly drawn up by Stout. No one at Lucas Arts cared about how crude it looked; they greenlit it.
Stout's Star Wars went through several revisions, especially Empire Strikes Back. Stout wanted to keep the same color scheme throughout, but Rob eventually convinced him to change the structure of the print entirely for the better. He said Stout went through at least a dozen revisions before coming up with the final product.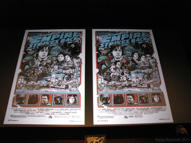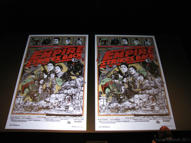 One revision just had characters moved around within the print. Another problem Lucasfilm had with Stout's Star Wars prints was that multiple Lukes existed in the prints. Rob and Justin scoured through dozens and dozens of old movie posters finding examples of multiple Lukes and even came across some UK posters with multiple Lukes in them. Lucasfilm eventually let them proceed with the print.
Rob Jones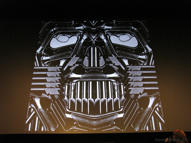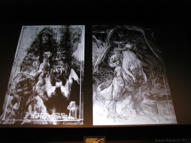 Lucasfilm did not approve of Rob Jones's gun-faced Darth Vader because guns did not exist in the Star Wars universe – only blasters. Rob made an alternate version. The print was called "The King's Lead Hat."
The Star Wars series was almost canceled. Acme Archives wanted it canceled. Rob convinced them that they would not renew their contract next year. Acme bought his bluff, even though they were only good until December, and they were able to finish out the Star Wars prints. Mondo was able to get lots of talent for Star Wars but settled for unique art and their old artists instead. They did not want to get boring art that everyone has seen before and wanted to maintain a unique style.
The Approval Process
Lucasfilm did not have any idea of how screen prints worked. They also had an approval system where they needed the sketches first before they could approve the final piece. In addition to sketches, they needed a "one-off" of the piece, which is impossible to do with screen printing. Mondo would take the design to a print shop of sorts and then get a non-screen-printed mural done as closely as possible to the final design.
Talent Search
Rob and Justin stated that they look for artists who are good at drawing anything and not just movie posters. Mitch Putnim is the one who normally searches for talent through his omgposters website. For instance, Ghostco (creator of The Innkeepers poster for Mondo) was originally found through art work and not any sort of movie poster.
Canceled Posters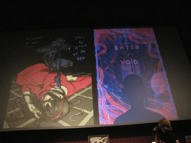 The Afraid of the Dark print was canceled because the studio thought that the monster-on-girl image was too sexual looking. Rob and Justin totally disagreed. Enter the Void was also canned but may surface later. It has many details to it that are not visible in jpeg format.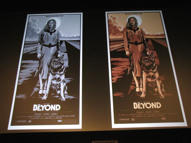 Caico's print for The Beyond looked too bright (even though it was supposed to glow in the dark). Each subsequent change to the print made it look worse and worse and more like a bootleg print. The final revision looked too similar to House of the Devil, so they canned it. The Ken Taylor design was simple and ended up looking better overall and that's what they went with.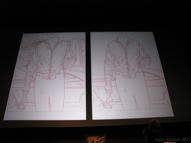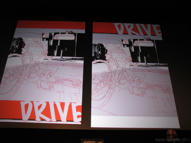 Ghostco created a poster for Drive, but the studio took so long in deciding if they liked it or not that Mondo eventually gave up and the studio killed the project. Justin said that it wasn't the big movie studios that were difficult to work with, it was the indie movie studios. They even mentioned that the studio wanted a very strange logo in the top and/or bottom that clashed with the art.
Frank Franzetta Series
Frank's kid liked the Mondo Beetlejuice and Halloween print and was the link to Mondo trying to convince Frank to come out of retirement to do some Mondo prints. Of course, he would not create new art – instead, he would sign prints made from his old art. Unfortunately, Frank died, but all his old paintings went to Robert Rodriguez, so there is a possible deal in the works.
Upcoming Prints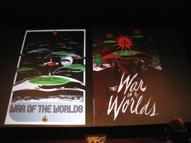 A cool print was shown for the movie Forbidden Planet. The print was never completed in time for the screening. It could come back in time. There was also a good one shown for War of the Worlds. One of these will be coming out soon.
Favorites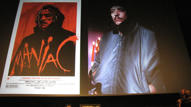 Rob Jones's favorite Mondo poster is Ken Taylor's Maniac. He states that Taylor won't draw from life, but from emotion. For instance, the drooping eye in the Maniac original source photo didn't look right to Taylor, so he wouldn't draw it that way. Ken captured the "crazy, lonely, murder-y" look of the character in the film. Justin's favorite Mondo poster is Vania and Horkey's Dracula.
Rare Mondo Items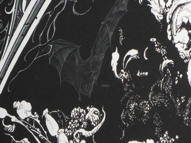 Dracula Artist Edition
Horkey's copies of Dracula that he gave out had a bat drawn in each version.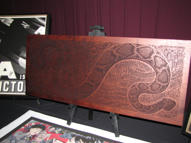 Wooden laser-etched True Grit
A wood variant of True Grit was available for viewing. Horkey had to redraw the entire thing so that lasers could be used on it. A price was not available, but Justin and Rob said that they will have to pay for the laser they broke during the process of building the piece…and lasers are not cheap.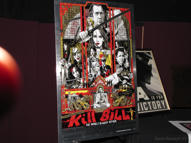 Tyler Stout's Kill Bill, metal version
Mondo had an overprint of a metal Hatori Hanzo variant of Kill Bill available for viewing (Justin said that he forgot that he had it). The original metal copy went to Quentin Tarantino as a present from his assistant. At the bottom it says: "Q HAPPYBIRTHDAY AND CONTINUED ADVENTURES. WITH LOVE, UNRULY JULIE."
One other note: The Kill Bill print was completed in two weeks from the time they gave Tyler the job and the time it took to print the item and bring it to the New Beverly Cinema for the screening.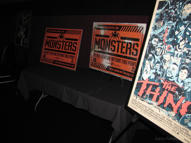 Monsters, metal version
One metal version was in pristine shape and the other was beat up. Justin and Rob talked about how they sent off the metal prints to get blown up with explosives, acid, and other destructive items so that they would look all beat up. The police would come out and see what all the racket was about. They received the metal signs in authentic shape later on smelling a little funny.
Audience Questions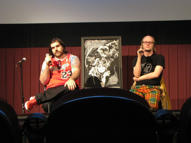 Brief rundown:
No Kurosawa or Miyazaki prints for the foreseeable future (too expensive/hard to approve).
A Mondo art book is in the works, but they need to clear the rights with all the studios.
We will be seeing another Jurassic Park print "very soon." Mondo has a two-year contract.
Vania and Horkey work great together, but Mondo has to work through Vania's agents which can be troublesome at times.
Posters and shows often get canceled.
Justin and Mitch often argue about edition sizes. In the end, they find a middle ground.
Stout's Star Wars was the largest Mondo edition size.
Justin and Rob like the illustrated look more, but designed poster is the way to go for matching mood. They go with what looks right per movie.
Conclusion
In the end, Justin said that the small stuff was just as important as the big stuff with Mondo; they are there to give films a new life. People don't normally watch movies like City of Lost Children, but through attending events like the Mystery Movies and by seeing evocative posters, people become interested and enjoy the movies, and that is the reason behind the material. The enjoyment of movies that are otherwise unloved.